PRODUCTS
NEWS
CONTACT US
Add: 5th Floor,Wanke Center,No.2,Heilongjiangnan Road,Qingdao,China
Tel: +86 18605320580
Fax: 0532-87620082
Email: info@luckmed.com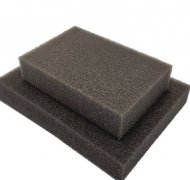 NPWT Dressing foam for Negative Pressure Wound Therapy ON ST
TEL:+86 18605320580
EMAIL:info@luckmed.com
Product description: NPWT DRESSING FOAM FOR NEGATIVE PRESSURE WOUND THERAPY ON STOCK SAMPLE ORDER OK ! SAMPLE ORDER OK ! SAMPLE ORDER OK ! * Patented film design with improved firmness * Instruction steps furnished to provide easy operation * Reinforces ductili
Product introduction
NPWT DRESSING FOAM FOR NEGATIVE PRESSURE WOUND THERAPY
ON STOCK
SAMPLE ORDER OK ! SAMPLE ORDER OK ! SAMPLE ORDER OK !
* Patented film design with improved firmness
* Instruction steps furnished to provide easy operation
* Reinforces ductility to reduce air leakage from poor closure
* Better adhesion suitable for all kinds of skin
* Highly air permeable, reducing the occurrence of eczema and dermatitis
* Granulation tissue growth assistance by the open mesh fine pore structure of the foam dressing.
* Hydrophobic material perfectly suitable for high seepage and infective wound(excellent drainage ability).
* Large aperture to ensure the uniformly dispersed negative pressure to the whole wound area.
User-friendly:
* Suitable for tricky wound dressing needless of bypass technique, making negative pressure treatment more easy consumble-saving and economic.
* Decent management for wounds of different types and exudale amount, even for wounds in need of great skills and experiences.